Subscribe to Nay/McNee Message Group
Subscribe to Daily Thought-Provoking Quotes Via Email
Privacy Notice
Contact Webmaster
The Nay Family in Utah and the West:
A history of John Nay Jr., His Wives and Children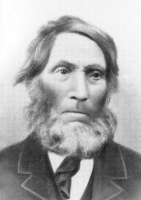 John Nay, Jr. (1804-1892) is the patriarch of most, if not all all Nays rooted in Utah. Some dedicated members of the Nay/McNee family have compiled a book on the lives and posterity of John and his wives, Thirza Angelina Hale (1814-1895) and Lucy Thankful Pine (1831-1897). The book includes comprehensive genealogical charts. Unfortunately, this book is now out of print. A an online version with the same copyrighted content is now available. Click here for more information.

While we thank them for their support of this website, the ol' Buffalo had no role in picking the GoogleAds herein. Their appearance is not an endorsement by the Ol' Buffalo.