Subscribe to Nay/McNee Message Group
Subscribe to Daily Thought-Provoking Quotes Via Email
Privacy Notice
Contact Webmaster
Joseph Fish

Joseph Fish was among the early settlers of Iron County, Utah; Snowflake, Arizona; and the Mormon Colonies in Mexico. He was mostly self-educated, but well educated. He was a storekeeper, newspaper editor, school teacher, attorney, justice of the peace, sawyer, surveyor, territorial legislator, and historian. His writings have long been valuable resources for later historians and genealogists in researching life in the early days of white settlement of the West. Above all, he was a moral man with solid character.
Joseph's Wives

First wife: Mary Campbell Steele (1840-1874)
Second wife: Eliza Jane Lewis (1853-1940)
Third wife: Adelaide Smith (1857-1927)
Fourth wife: Julia Ann Reidhead (1865-1951)
Joseph Fish (Standing) and Bishop John Reidhead, Jr.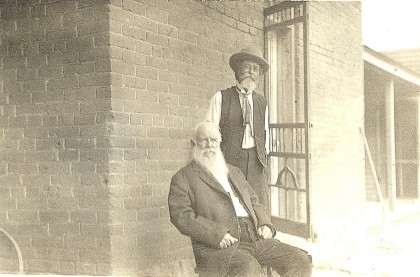 Joseph Fish's Posterity & Ancestry
Family Tree of Joseph Fish
Surname List - A list of all surnames on this site
Index of Names - A list of all names on this site
Download a GEDCOM file of this data (over 11 megabytes) (Right-click the link to safe a copy to your computer)
Autobiography of Joseph Fish (1840-1926) (Right-click the link to safe a copy to your computer)

Other Writings of Joseph Fish
Utah Pioneer Life

The History of John Reidhead, Jr. and His Posterity

Lucille Cottam Fish Biography


Mormon Settlement In Arizona: A Record of Peaceful Conquest of the Desert by James H. McClintock, Phoenix, Arizona, Manufacturing Stationers Inc, 1921

Joseph's Homes

Joseph Fish home in Parowan Utah. This home still stands at 8 North 200 East, Parowan. This photo was taken before 1878 when he moved to Arizona.
First Joseph Fish home in Snowflake Arizona. It originally had two rooms and was later expanded to five.
Joseph Fish home in Woodruff Arizona in 1915. Persons in photo, left to right: Julia Ann Reidhead Fish (Joseph's fourth wife), her parents (John and Julia Reidhead), Joseph (on the porch), and Jesse Lewis Fish and Delma Fish (Joseph and Julia Ann's youngest children).
Joseph Fish home in Enterprise Utah. He built this home at age 79 (about 1919).
Ol' Buffalo Genealogy Index
To contact me by mail, phone or fax:
Blaine S. Nay
714 South 1175 West
Cedar City, UT 84720-3699, USA
Email - Click here
Fax (877) 559-3991
Please Note:
I have published the best information I have available concerning this family tree. I have not been able to verify the accuracy of all data, but I do work on it when I can. In some cases I have posted contradictory information (ie two different birth dates). This indicates that I have obtained different information from different sources, but have not seen original evidence to verify which is correct. If you identify errors or can clear up contradictions, please notify me. If you can add new information, please let mow. To protect privacy, I do not knowingly publish details on individuals known or assumed to be living.
As you can see, the quality of the photos that I have on this page leave much to be desired. If you have better copies of these photos, please let me know.

While we thank them for their support of this website, the ol' Buffalo had no role in picking the GoogleAds herein. Their appearance is not an endorsement by the Ol' Buffalo.