Subscribe to Nay/McNee Message Group
Subscribe to Daily Thought-Provoking Quotes Via Email
Privacy Notice
Contact Webmaster
Click here to support the Nay Family History Fund with a voluntary donation. This donation will be used for genealogical research and other expenses approved by the members. To donate more, simply click the desired button multiple times.
The Nay Family in Utah and the West:
A history of John Nay Jr., His Wives and Children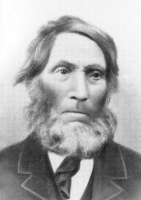 John Nay, Jr. (1804-1892) is the patriarch of most, if not all all Nays rooted in Utah. Some dedicated members of the Nay/McNee family have compiled a book on the lives and posterity of John and his wives, Thirza Angelina Hale (1814-1895) and Lucy Thankful Pine (1831-1897). The book includes comprehensive genealogical charts. Unfortunately, this book is now out of print. A an online version with the same copyrighted content is now available. Click here for more information.
Ol' Buffalo Genealogy Index
To contact me by mail, phone or fax:
Blaine S. Nay
714 South 1175 West
Cedar City, UT 84720-3699, USA
Email - Click here
Fax (877) 559-3991
Please Note:
I have published the best information I have available concerning this family tree. I have not been able to verify the accuracy of all data, but I do work on it when I can. In some cases I have posted contradictory information (ie two different birth dates). This indicates that I have obtained different information from different sources, but have not seen original evidence to verify which is correct. If you identify errors or can clear up contradictions, please notify me. If you can add new information or photos, please let me know. To protect privacy, I do not knowingly publish details on individuals known or assumed to be living.

While we thank them for their support of this website, the ol' Buffalo had no role in picking the GoogleAds herein. Their appearance is not an endorsement by the Ol' Buffalo.