Subscribe to Nay/McNee Message Group
Subscribe to Daily Thought-Provoking Quotes Via Email
Privacy Notice
Contact Webmaster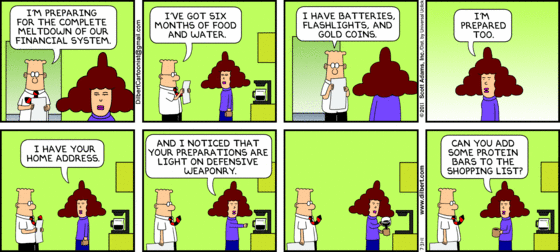 In what ways could our lack of self-reliance affect us spiritually?
Marital stress → divorce
Self-reliance is a prerequisite to the complete freedom to act
Jacob 2:17-19 - Think of your brethren like unto yourselves, and be familiar with all and free with your substance, that they may be rich like unto you. But before ye seek for riches, seek ye for the kingdom of God. And after ye have obtained a hope in Christ ye shall obtain riches, if ye seek them; and ye will seek them for the intent to do good—to clothe the naked, and to feed the hungry, and to liberate the captive, and administer relief to the sick and the

afflicted.

In general, are those who chronically need assistance truly preparing themselves to a Celestial level?

The toughest part of being unemployed is admitting the need to accept help. Everyone likes to be self-sufficient. But we all need to learn to receive gracefully.
What kinds of situations require us to be self-reliant?
Unemployment

Crop failure as a farmer resulting in loss of income

Local, regional, national, or global crop failure resulting in widespread food shortage and high prices

Transportation system failures due to labor strikes, weather, or fuel shortages

War or civil unrest

Rationing

Economic crisis such as a depression

Disease epidemics and quarantines

Needs of family members experiencing any of the above situations
The following steps, if taken religiously, will prepare oneself and his family to be self-reliant
Budgeting
What is budgeting?

Estimate income

Allow for seasonal fluctuations
Don't spend anticipated pay raises -- build budget based upon current income

Estimate expenses

Review spending patterns over past few months looking for ways to improve money allocation. This is the starting point for creating a budget.
Distinguish between wants and needs
Set spending priorities.
Bad: Open-end budgeting fluctuates with anticipated pay increases. It does not not freeze or control expenses and will never truly get a handle on the budget.
Good: Closed-end budgeting establishes a fixed level of prioritized spending that is less than income.

A good budget is firmly agreed upon by both spouses, but retains flexibility to deal with appropriate changes

Pay tithes and offerings first
Pay yourself

Retirement

Tax deferred accounts available through employer
IRAs
Self-employment tax deferred accounts

Save for future expenses

Planned purchases such as car, furniture, appliances
Missions
Weddings
Education

Personal spending money for each member of the family

Each person should have an allowance to spend as he sees fit without having to justify the expense to anyone

Recreation

Vacation
Hobbies
Date night

Fixed expenses

Lodging

Mortgage or rent
Utilities
Routine maintenance

Food
Clothing
Transportation

Emergency fund (3-6 month's income)

Unemployment
Crop failure if a farmer
Unexpected repairs to home, car, etc.
Unexpected medical bills

Food storage

Goal is 1-year supply of food, clothing, fuel, etc.
Rotate your stored food and other items

Don't let food sit in storage for years. Instead, remove food from storage after a year, eat it, and replace with fresh food storage.

Store what you eat. Eat what you store.

Store only what your family enjoys eating -- in times of crisis, familiar food can add stability and comfort to the situation.
Gain familiarity with emergency food preparation methods (ie on a camp stove, over a campfire, or in a dutch oven) before the crisis hits.

Water, water purification
72-hour kit

Miscellaneous

Taxes
Education

College
Private school
School fees and supplies
Tutoring (music lessons, etc)

Donations to charities
Gifts to family and friends (Christmas, birthdays, weddings, etc)
Church leaders acknowledge the need to borrow to buy a home, sometimes for education, and in some cases to buy a car
Debt can be a useful tool, such as to buy equipment for a business if the equipment will pay for itself
Avoid borrowing to buy something that doesn't retain value or that doesn't pay for itself such as food, furniture, appliances, clothing, food storage, pleasure items (stereos, TVs)
Set goals and dates for elimination of debts
If you have a $3,000 credit card balance with 17.9% interest, it will take 37 years to pay of the account by making only the 2% minimum payment. Total payments will be nearly $11,000! At 14.9% interest, it will take 26 years with a total of over $7,400 in payments.
Make debt elimination a high-priority budget item.

Stop assuming new debt and stop continuing to use existing accounts. Direct the lenders to close all accounts (advising them that you will continue to pay the debts) except one or two low-interest-no-annual-fee credit cards.
Set a fixed minimum amount for debt liquidation. This amount is equal to the sum of all monthly consumer debt payments
As soon the smallest debt is paid, roll the amount spent in monthly payments on that account over to pay another account (choose either the account with the highest interest rate or the account with the lowest outstanding balance).
Continue this process until all debts are paid.
Teach spouse, kids about financial standing
Topic for family home evening
Who handles the money? Is this agreeable to both spouses?
Does the money handler keep secrets (intentional or otherwise) from the spouse?
Can you (or your spouse) assume control if something happened to the money handler?
What if something happens to both parents?
Legal protection
Will

Every parent and every spouse must have a will to direct the distribution of assets and the care of minor children

Trusts

Living trusts are an additional tool to distribute assets of an estate
A will is still essential

Power of attorney, durable power of attorney

Enables another trusted person to conduct business in one's absence
A durable power of attorney remains in effect if the grantor is incapacitated

Health power of attorney

Directs one's own medical care if incapacitated

Insurance

Health
Life
Disability
Liability
Auto
Home
Long-term care for the disabled
Education / skills
Have a back-up skill in case you can't continue your present career due to health, technology, etc
Continue education to improve advancement opportunities
Health
Preserve your health so you can support yourself and your family
Healthy people are better able to cope with crises



While we thank them for their support of this website, the ol' Buffalo had no role in picking the GoogleAds herein. Their appearance is not an endorsement by the Ol' Buffalo.