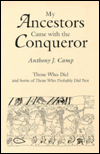 The following list is reported to be from a plaque in the church at Dives-sur-Mer, Normandy, France, where William the Conqueror and his knights said mass before setting sail to invade England in 1066. It lists all the knights who took part in the invasion.

[Note by www.nay.org webmaster: The following widely distributed list is reported by at least one researcher to be a fabrication. Sadly, much genealogy beyond the 1500s must be taken with a grain of salt. I have not found proof of its authenticity. The book shown at the right, My Ancestors Came with the Conqueror, discusses this list and may be helpful.]

Care needs to be taken in using this list:

1) In the first place, it is ordered by Christian name, not by surname.

2) Secondly the concept of surnames as we know them was not very well-developed. In most cases, they either took the names of the villages whence they came (this would generally be the case for those those starting with a "de"), or else the surname was a sort of nickname, depicting certain characteristics e.g. Alain le Roux (Alain of the red hair), Raoul Vis-de-Loup (Raoul wolf-face) etc. Then, of course, we have poor Robert Le Bastard. In other cases, it could be the father's name, in the format "fils de ___" (son of ___). This in later years became "Fitz ___", as in such names as "FitzJohn" etc.

3) The spellings were often different then. For example, one family name (Bunker) comes from French Bon-Coeur ("Good-Heart"). This would have been written "Cor-bon" in Norman French, and there are in fact a couple of "Corbon" names here, although (infuriatingly) we can't quite prove the link. Also, the bishop of Bayeux, who is normally known by the name of "Odo", is listed under the French spelling of "Eude".

4) Please remember that these names would have been copied, recopied and miscopied several times, so errors could well creep in. Handwritten "u"s and "n"s would tend to get confused, as might "e"s and "a"s.

5) For the benefit of those who do not have "extended ASCII", all names are spelled without accents, cedillas etc.

6) Some names are marked with (*). This name is duplicated - it is not clear whether there were two individuals with this name.
Achard d'Ivri
Alevi
Altard de Vaux
Alain le Roux
Ansure de Dreux
Anquetil de Cherbourg
Anquetil de Grai
Anquetil de Ros
Anscoul de Picvini
Ansfroi de Cormeilles
Ansfroi de Vaubadon
Ansger de Montaigu
Ansger de Senarpont
Ansgot
Ansgot de Ros
Arnould de Perci
Arnould d'Andre (Arnould d'Andri)
Arnould de Nesdin
Aubert Greslet
Aubri de Couci
Aubri de Ver
Auvrai le Breton
Auvrai d'Espagne
Auvrai Merteberge
Auvrai de Tanie
Azor
Bavent
Beaudouin de Colombieres (de Colombihres)
Beaudoin le Flamand
Beaudoin de Meules
Berenger Giffard
Berenger de Toeni
Bernard d'Alencon (d'Alengon)
Bernard de Neufmarche
Bernard Pancevolt
Bernard de Saint-Ouen
Bertran de Verdun
Beugelin de Dive
Bigot de Loges
Carbonnel
Daniel
Danneville
David d'Argentan
d'Argouges
d'Auvay
d'Auvrecher d'Angerville
de Bailleul
de Briqueville (*)
de Canouville
de Clinchamps
de Courcy
de Cugey
de Fribois
d'Hericy
d'Houdetot
de Mathan
de Montfiquet
d'Orglande
du Merle
de Saint-Germain
de Sainte-d'Aignaux
de Tilly
de Touchet
de Tournebut
de Venois
Drew de la Berviere (de la Bervihre)
Drew de Montaigu
Durand Malet
Ecouland
Engenouf de l'Aigle
Engerrand de Rainbeaucourt
Erneis de Buron
Etienne de Fontemai
Eude Comte de Champagne
Eude Eveque de Bayeux (Evjque de Bayeux)
Eude Cul de Louf
Eude le Flamand
Eude de Fourneaux
Eude le Senechal (le Sinichal)
Eustache Comte de Boulogne
Foucher de Paris
Fouque de Libourg
Gautier de l'Appeville
Gautier le Bouguignon
Gautier de Caen
Gautier de Claville
Gautier de Douai
Gautier Giffard
Gautier de Grancourt
Gautier Hachet
Gautier Hewse
Gautier d'Incourt
Gautier de Laci
Gautier de Mucedent
Gautier d'Ornontville
Gautier de Riebou
Gautier de Saint-Valeri (de Saint-Valiri)
Gautier Tirel
Gautier de Vernon
Geoffroi Albelin
Geoffroi Bainard
Geoffroi du Bec
Geoffroi de Cambrai
Geoffroi de la Guierche
Geoffroi le Marechal
Geoffroi de Mandeville
Geoffroi Martel
Geoffroi Maurouard
Geoffroi de Montbrai
Geoffroi Comte du Perche
Geoffroi de Pierrepont
Geoffroi de Ros
Geoffroi de Runeville
Geoffroi Talbot
Geoffroi de Tournai
Geoffroi de Trelli
Gerboud le Flamand
Gilbert le Blond
Gilbert de Blosbeville
Gilbert de Bretteville
Gilbert de Budi
Gilbert de Colleville
Gilbert de Gand
Gilbert de Gibard
Gilbert Malet
Gilbert Maminot
Gilbert Tibon
Gilbert de Werables
Gilbert de Wissant
Gonfroi de Cioches
Gonfroi Mauduit
Goscelin de Corneilles
Goscelin de Douai
Goscelin de la Riviere (de la Rivihre)
Goubert d'Aufai
Goubert de Beauvais
Guernon de Peis
Gui de Craon
Gui de Raimbeaucourt
Gui de Rainecourt
Guillaume Alis
Guillaume d'Angleville
Guillaume l'Archer
Guillaume d'Argues
Guillaume d'Audrieu
Guillaume de l'Aune
Guillaume Basset
Guillaume Belet
Guillaume de Beaufou
Guillaume Bertran
Guillaume de Biville
Guillaume le Blond
Guillaume Bonvalet
Guillaume de Bosc
Guillaume du Bosc-Roard
Guillaume de Bourneville
Guillaume de Brai
Guillaume de Briouse
Guillaume de Bursigni
Guillaume de Canaigres
Guillaume de Cailli
Guillaume de Cairon
Guillaume Cardon
Guillaume de Carnet
Guillaume de Castillon
Guillaume de Ceauce
Guillaume la Cleve
Guillaume de Colleville
Guillaume de Paumera
Guillaume le Despensier
Guillaume de Durville
Guillaume d'Ecouis
Guillaume Espec
Guillaume d'Eu
Guillaume Comte d'Evreux
Guillaume de Falaise
Guillaume de Fecamp (de Ficamp)
Guillaume Folet
Guillaume de la Foret
Guillaume de Fougeres (de Foughres)
Guillaume Froissart
Guillaume Goulaffre
Guillaume de Letre
Guillaume de Loucelles
Guillaume Louvet
Guillaume Malet
Guillaume de Malleville
Guillaume de la Mare
Guillaume Maubenc
Guillaume Mauduit
Guillaume de Moion
Guillaume de Monceaux
Guillaume de Noyers
Guillaume fils d'Olgeanc
Guillaume Pantoul
Guillaume de Parthenai
Guillaume Peche
Guillaume de Perci
Guillaume Pevrel
Guillaume de Piquiri
Guillaume Poignant
Guillaume de Poillei
Guillaume le Poitevin
Guillaume de Pont de l'Arche
Guillaume Quesnel
Guillaume de Reviers
Guillaume de Sept-Meules
Guillaume Taillebois
Guillaume de Tocni
Guillaume de Vatteville
Guillaume de Vauville
Guillaume de Ver
Guillaume de Vesli
Guillaume de Warenne
Guimond de Blangi
Guimond de Tessel
Guineboud de Balon
Guinemar le Flamand
Hamelin de balon
Hamon le Senechal (le Sinichal)
Hardouin d'Escalles
Hascouf Musard
Henri de Beaumont
Henri de Ferrieres (de Ferrihres)
Herman de Dreux
Herve le Berruier (Hervi le Birruier)
Herve d'Espagne (Hervi d'Espagne)
Herve d'Helion (Hervi d'Hilion)
Honfroi d'Ansleville
Honfroi de Biville
Honfroi de Bohon
Honfroi de Carteret
Honfroi de Culai
Honfroi de l'ile
Honfroi du Tilleul
Honfroi Vis-de-Louf
Huard de Vernon
Hubert de Mont-Canisi
Hubert de Pont
Hugue l'Ane
Hugue d'Avranches
Hugue de Beauchamp
Hugue de Bernieres (de Bernihres)
Hugue du Bois-Hebert (du Bois-Hibert)
Hugue de Bolbec
Hugue Bourdet
Hugue de Brebeuf
Hugue de Corbon
Hugue de Dol
Hugue le Flamand
Hugue de Gournai
Hugue de Grentemesnil
Hugue de Guideville
Hugue de Hodenc
Hugue de Hotot
Hugue d'Ivri
Hugue de Laci
Hugue de Maci
Hugue Maminot
Hugue de Manneville
Hugue de la Mare
Hugue Mautravers
Hugue de Mobec
Hugue de Montfort
Hugue de Montgommeri
Hugue Musart
Hugue de Port
Hugue de Rennes
Hugue de Saint-Quentin
Hugue Silvestre
Hugue de Vesli
Hugue de Viville
Ilbert de Laci
Ilbert de Toeni
Ive Taillebois
Ive de Vesci
Jasce le Flamand
Jumel de Toeni
Lanfranc
le Vicomte
Mathieu de Mortagne
Mauger de Carteret
Maurin de Caen
Mile Crespin
Murdac
Niel d'Aubigni (d'Aubigni)
Niel de Berville
Niel Fossard
Niel de Gournai
Niel de Munneville
Normand d'Adreci
Osberne d'Arques
Osberne du Breuil
Osberne d'Eu
Osberne Giffard
Osberne Pastforeire
Osberne du Quesnai
Osberne du Saussai
Osberne de Warci
Osmond
Osmont de Vaubadon
Oure d'Addetot
Oure de Bercheres
Picot
Pierre de Valognes
Rahier d'Avre
Raoul d'Aunon
Raoul Baignard
Raoul de Bans
Raoul de Bapaumes
Raoul Basset
Raoul de Beaufou
Raoul de Bernai
Raoul Blouet
Raoul Botin
Raoul de la Bruiere (de la Bruihre)
Raoul de Chartres
Raoul de Colombieres (de Colombihres)
Raoul de Conteville
Raoul de Courseume
Raoul de l'Estourmi
Raoul de Fougeres (de Foughres)
Raoul de Framan
Raoul de Gael
Raoul de Hauville
Raoul L'ile
Raoul de Lanquetot
Raoul de Linesi
Raoul de Marci
Raoul de Mortemer
Raoul de Moron
Raoul d'Ouilli
Raoul Painel
Raoul Pinel
Raoul Pipin
Raoul de la Pommeraie
Raoul du Quesnai
Raoul de Saint-Sanson
Raoul du Saussai
Raoul de Sauvigni
Raoul Taillebois
Raoul du Theil
Raoul de Toeni
Raoul de Tourlaville
Raoul de Tourneville
Raoul Tranchant
Raoul fils d'Unepac
Raoul Vis-de-Loup
Ravenot
Renaud de Bailleul
Renaud Croc
Renaud de Pierrepont
Renaud de Saint-Helene (de Saint-Hilhne)
Renaud de Torteval
Renier de Brimou
Renouf de Colombelles
Renouf Flambard
Renouf Pevrel
Renouf de Saint-Waleri
Renouf Vaubadon
Richard Basset
Richard de Beaumais
Richard de Bienfaite
Richard de Bondeville
Richard de Courci
Richard d'Engagne
Richard L'Estourmi
Richard Fresle
Richard de Meri
Richard de Neuville
Richard Poignant
Richard de Reviers
Richard de Sacquerville
Richard de Saint-Clair
Richard de Sourdeval
Richard Talbot
Richard de Vatteville
Richard de Vernon
Richer d'Andeli
Robert d'Armentieres (d'Armentihres)
Robert d'Auberville
Robert d'Aumale
Robert de Barbes
Robert Le Bastard
Robert de Beaumont
Robert Le Blond
Robert Blouet
Robert Bourdet
Robert de Brix
Robert de Buci
Robert de Chandos
Robert Corbet
Robert de Courcon (de Courgon)
Robert Cruel
Robert le Despensier
Robert Comte d'Eu
Robert Fromentin
Robert fils de Gerould
Robert de Glanville
Robert Guernon
Robert de Harcourt
Robert de Lorz
Robert Malet
Robert Comte de Meulan
Robert de Montbrai
Robert de Montfort
Robert Comte de Mortain
Robert des Moutiers
Robert Murdac
Robert d'Ouilli
Robert de Pierrepont
Robert de Pontchardon
Robert de Rhuddlan
Robert de Romenel
Robert de Saint-Leger
Robert de Thaon
Robert de Toeni
Robert de Vatteville
Robert des Vaux
Robert de Veci
Robert de Vesli
Robert de Villon
Roger d'Aubernon
Roger Arundel
Roger d'Auberville
Roger de Beaumont
Roger Bigot
Roger Boissel
Roger de Bosc-Normand
Roger de Bosc-Roard
Roger de Breteuil
Roger de Bulli
Roger de Carteret
Roger de Chandos
Roger Corbet
Roger de Courcelles
Roger d'Evreux
Roger d'Ivri
Roger de Laci
Roger de Lisieux
Roger de Meules
Roger de Montgommeri
Roger de Moyaux
Roger de Mussegros
Roger de Ouistreham
Roger d'Orbec
Roger Picot
Roger de Pistres
Roger le Poitevin
Roger de Rames
Roger de Saint-Germain
Roger de Somneri
Ruaud l'Adoube
Seri d'Auberville
Serlon de Burci
Serlon de Ros
Sigan de Cioches
Simon de Senlis
Thierri Pointel
Toustain
Turold
Turold de Grenteville
Turold de Papelion
Turstin de Gueron
Turstin Mantel
Turstin de Saint-Helene (de Saint-Hilhne)
Turstin fils de Rou
Turstin Tinel
Vauquelin de Rosai
Vital
Wadard