Subscribe to Nay/McNee Message Group
Subscribe to Daily Thought-Provoking Quotes Via Email
Privacy Notice
Contact Webmaster
* These links go to files in Adobe Acrobat (PDF) format.
While the descendants of John Nay, Jr. do not have a formal family organization, many of his descendants are interested in preserving his history and in compiling a complete genealogical database of his ancestors and descendants. For this purpose, many of his descendants held a family reunion on 17 Apr 2004 (John's 200th birthday) in St. George, Utah. This webpage is the result of discussions at that meeting. The goal of this website is to facilitate the sharing of family history information. If you want to help by serving as a genealogist or historian for your branch of the John Nay, Jr. family, please contact the webmaster.
Like any human endeavor, this page is subject to error. At the very least, information about these people is a very incomplete reflection of their lives. If you have any additional information about these people, please contact the webmaster or one of the family genealogists listed above.
In May of 2005, Joan Nay presented a paper to the Mormon History Association on the New Hampshire roots of the Nay family and on the emigration of John Nay, Jr. to Utah.
Click here to support the Nay Family History Fund with a voluntary donation. This donation will be used for genealogical research and other expenses approved by the members. To donate more, simply click the desired button multiple times.
The Nay Family in Utah and the West:
A history of John Nay Jr., His Wives and Children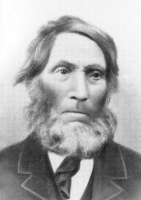 John Nay, Jr. (1804-1892) is the patriarch of most, if not all all Nays rooted in Utah. Some dedicated members of the Nay/McNee family have compiled a book on the lives and posterity of John and his wives, Thirza Angelina Hale (1814-1895) and Lucy Thankful Pine (1831-1897). The book includes comprehensive genealogical charts. Unfortunately, this book is now out of print. A an online version with the same copyrighted content is now available. Click here for more information.
Ol' Buffalo Genealogy Index

While we thank them for their support of this website, the ol' Buffalo had no role in picking the GoogleAds herein. Their appearance is not an endorsement by the Ol' Buffalo.