Subscribe to Nay/McNee Message Group
Subscribe to Daily Thought-Provoking Quotes Via Email
Privacy Notice
Contact Webmaster
One Of These Worthies Is A Rhodes Scholar...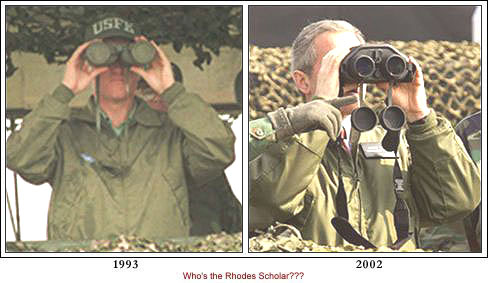 The picture on the left is of Bill Clinton. The picture on the right is of George W. Bush. Both pictures were taken at the Korean DMZ. One of the two didn't have enough sense to remove the lens caps from the binoculars before the photo opportunity. It is this arrogant unwillingness to admit simple errors (or learn from them) that has made him the laughing stock of the world (although he seems to be a popular party guy).
Which of These Men Would You Rather Have Lead the Nation?
George W Bush
John F Kerry

The Democrats purposely chose a candidate with a 22-year history in elective office entirely barren of any distinction. Can you name a single significant bill that bears John Kerry's mark? A single important speech? A single legislative achievement? A single idea of any kind associated with Kerry's name? -- Charles Krauthammer

While we thank them for their support of this website, the ol' Buffalo had no role in picking the GoogleAds herein. Their appearance is not an endorsement by the Ol' Buffalo.