How To Get Your Child To Do What You Ask
If you liked the article Taking Control of Your Family mentioned in the left column, you will also like my eBook: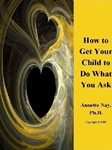 How To Get Your Child To Do What You Ask
This eBook is an informative parenting tool every parent should have to make the job of parenting easier and more effective. This helpful tool is only $17.97. To order click on the book cover above.
Look at all the information you will have at your fingertips at this amazing price:
This eBook expands upon the free article: Taking Control of Your Family. It explains how to make a positive change in the marital relationship to effect a strong parental front. It explains what can happen when you let little slights creep into your marriage. Being aware of these things helps you to stop them before they take a hold and destroy your marriage and the spouse you love. It also includes martial skills like active listening so you hear and understand the true meaning behind what is being said by your spouse. Most fights are because of misunderstanding.
The Proper Choice of Consequences
Choosing the appropriate consequences is discussed. Consequences are chosen because they are punitive to the child and will motivate him/her to better behavior. Wouldn't be wonderful to be able to know what consequences will work for each age and each child? With the information presented in this eBook, there is no more guessing.
Have you ever wondered if you should use food as a reinforcer for good behavior? The reasons for and against using food as a reinforcer is discussed.
How to Use Different Parenting Techniques
Various techniques such as Time-Out are discussed in detail. For example:
How Time-Out works and why.

How long in Time-Out is too long?

What should happen after being in Time-Out to make it a learning situation that will change the unwanted behavior?

How to use redirection.

Token Economy – How to use it and how it can modify bad behavior.

How to use No-Notice Incentive Activities to change behavior.

How can the loss of regular activities work to change behavior?

Is being consistent in your parenting important in causing change in your children's behavior?

Can withholding privileges or possessions change behavior?

Why does my child's behavior get worse when I try these techniques?

Will my child's behavior ever get better if I am consistent in my parenting, even when my child is acting out?
All of these questions are discussed, along with the answers and the reasons for those answers. You will know why you need to take a certain action with your child. With type of information you will feel more at ease in your parenting. This will enable you to be more confident and know what needs to be done as each issue arises.
Having a confident parenting style is not only important for your well-being, but also for your children; as you are modeling proper parenting for them. You are providing good boundaries for them to exist within that will keep them safe and help them learn the skills needed to deal with life during the time they are with you and to be able to set proper boundaries as adults for themselves and their children. In essence, you are parenting generations beyond yourself. You owe it to yourself and them to get the best parenting skills available.
Consequences that bring about Change
This eBook contains parenting tips that will help you to know the best ways to change bad behaviors. Some of these are:
How to reinforcing good behavior when it occurs

How to shaping good behavior

How to use double reinforcement

Spending quality time with your child

Knowing each of your children, personally to be able to choose the best consequences for change their behavior

How to use dinnertime talk to know what your children are doing and what is important to them.
Losing Control
There is a discussion on why yelling doesn't work to gain control of your children.

What you can do instead of yelling.
How Child's Self Esteem is Developed
The issue of how to destroy a child's self esteem is address.

How to build self-esteem is also discussed.
Good Sibling Relationships
Other issues that cause problems in a family are lying and fighting and/or violence between siblings and you. This eBook suggests a way to stop the lying. Violence should never be tolerated. What to do about violence in your home is also addressed.
Helping the Children Know Their Resources
When children have a problem, no matter the age, it is important that they know their own personal resources and skills they can rely on. How to teach life skills is discussed along with other resources your children can use. These skills will be needed not only in daily life but also in a crisis or when they have tough decisions they must make.
As your children's coach, it is important that you help them firmly establish their resources, role-play situations that may or are currently giving them problems. These role-plays can have alternate good endings so that they can have an arsenal of varied situations to choose from in decided which scenario will fit the situation at the time. This eBook tells you how to do this. It is firmly believed that youths commit suicide because they run out of their skills set and are unable to deal with the situations they find themselves in. Finding these situations unmanageable and not knowing alternative resources to use other then themselves, the pressure becomes unbearable and .they commit suicide.
How to Carryout Consequences
How to administer consequences for bad behavior, without anger and yelling takes finesse. This eBook tells you how to accomplish this without blowing your top or allowing your youths to push your buttons which allows them to control the situation.
How to Make Good Decisions
Parents do not have all the answers. However, there is another source that does. This eBook tells you where and how to get answers when you need to know the truth.
Other aspects of this eBook will help you with:
How to set up a daily routine and why it helps.

Activities to keep children from being bored and out of trouble.

How to making a Job's List Book to facilitate getting your youths to do their part in the family.

Other ways to gain control of your family.

Methods of teaching life skills your children that they need. How to moderating feelings.

Sources of anger and factors that lower your ability to cope with anger

What is respect and how it applies in the lives of your family.

What should be the basic rules of your family?

It is discussed in a family contract with older youths.

Should each child be treated the same?

How to deal with individual differences between children is discussed.

How to teach your youth to deal with their peers (peer smarts)

Encouraging your youth to discuss relational problems with you so you can help them make correct choices and/or help them to understand their resources to find correct answers to their problems.
Other Articles Included in the Appendix
These articles are included to help you in your parenting.
A Parent's Guide for Raising Children

Allowing Rewards and Consequences for Children's Behaviors

Family Council

Understanding Adolescents and Teenagers

The Importance of Good Friends in Your Teen's Life

How to Acquire Good Friends

Making and use a Family Job's List Binder

Family Night Phantom

Family Home Evening

Family Home Evening Planner

Lesson Ideas

Appreciating Music

Compile Family History

Forgiving Others

Gratitude

Honesty

Managing Family Resources

Reverence and Respect

Sharing Household Work

Solving Family Problems

Understanding Death

Family Unity Activities

Our Cultural Heritage

A Great Way to Communicate

Serving Others Together

Buzz Sessions

Brainstorming

Role Playing

Demonstrations

Reunions by Mail

Bottom of Form

Large Group Fun

Learning Activities

Making Work Fun

Learning Fun for Infants and Toddlers

Learning Fun for Preschoolers

Travel Games

Memory Magic

Strip Puzzles

Mind Stretchers

Magic Tricks

Riddles

Making and Keeping Aids for Family Home Evenings

Creating Fancy Foods

Fun with Games

Cultural Activities

Singing Praises: Learning Our Hymns and Children's Songs

Appreciating Music

Arranging Flowers

Top of Form

Arts and Crafts

Christmas Crafts

Fun with Stories and Poems

Creating Pictures and Things

Enjoying Dance and Drama

Top of Form

Bottom of Form

Nature Activities

Activities in the Rain

Gardening in Containers

Bird Watching

Close to Home

Rock Hounding

Making Snow Sculptures

Collecting and Preserving Shells

Physical Activities

Carpet Square Challenge

Number and Alphabet Grid Challenge

Marked Yard Games

Physical Fitness Award Program

Rhythmical Exercise Program

Family Physical Activity Center

Family Superstars

Let's Go Fly a Kite Family

Preparedness Activities

Emergency Supplies

Emergency Telephone Numbers

Mouth-to-Mouth Resuscitation

Treating Choking

Treating Shock

Treating Bleeding

Protecting Your Home against Fire

Coping with a Blackout

Making Your Home a Tough Target for Thieves

Earthquake Preparation

Making a Survival Kit

Water Safety Skills
You can get your copy of this informative eBook for only $17.97. Click on the book cover to order.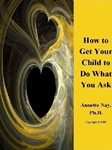 How To Get Your Child To Do What You Ask
Testimonial: I think this book is a great resource. You have a lot of practical information that is easy to implement. I was an easy read and I was able to incorporate the advice while I was reading it. It was easy to skip around to get to the information I needed the most. Thank you for writing and compiling such a wonderful parenting book. Jenny M. - Utah